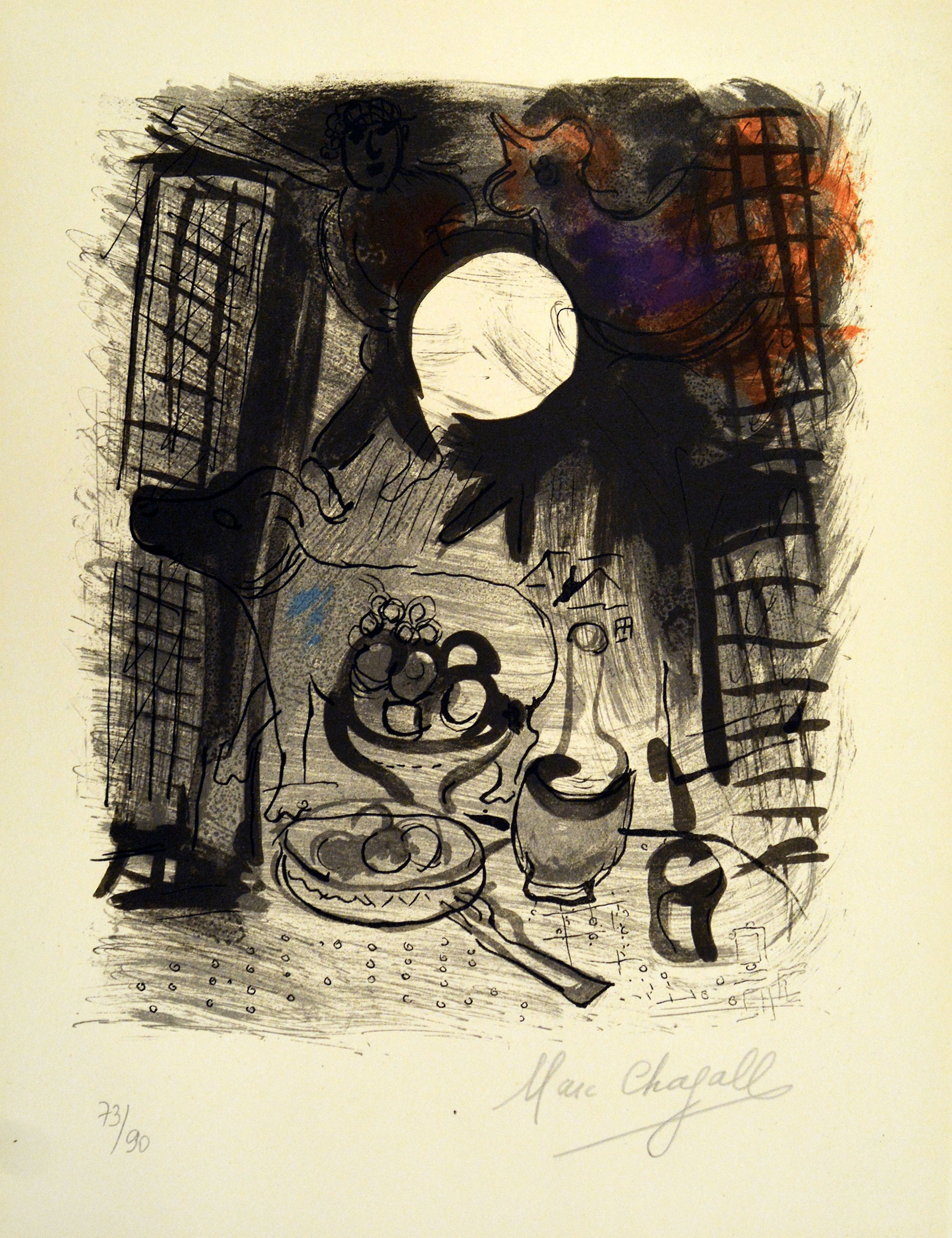 About The Artwork
Marc Chagall witnessed a vast sweep of history: from the shtetl of Vitebsk, Belarus to bohemian Paris during his 20s and 30s; exiled to the United States during World War II then a later life lived in Saint-Paul de Vence, on the Côte d'Azur. A mingling of influences — Cubist forms, Expressionist color, the poetry of Blaise Cendrars and Guillaume Apollinaire — shaped Chagall's unique formal syntax. The artist's modern language found expression through varied means. He plumbed an array of mediums, including painting, ceramics, marble, stained glass, book illustration, theatre design, mosaic and printmaking, and constantly adapted aspects of one medium to another. This kind of synthesis is demonstrated in Nature Morte Brune, which unites Chagall's explorations into structure and space with his painterly approach to color.
By the time he made Nature Morte Brune, Chagall had already achieved international fame in printmaking, having won the graphics prize for his etchings shown in the French pavilion at the Venice Biennale of 1948. Two years later, he immersed himself in lithography at the Paris workshops of Fernand Mourlot. Mourlot contributed enormously to the revival of color lithography, working with modern masters such as Picasso, Braque, Matisse, Miró, Léger, Dubuffet and others who pushed the medium to its creative ends. Chagall learned from Mourlot's master printmaker, Charles Sorlier, with whom he collaborated on over 1,000 lithographs. Sorlier recounted Chagall's first forays into the technique:
From 1950 to 1952 Chagall regularly came to the studio at 18 rue Chabrol, not far from the Gare de l'Est, to learn the trade. He learned like an inquisitive apprentice boy. As stubborn as he was eager, under my guidance he tried out every imaginable technique. No craftsman will ever be prouder than I was to have such a gifted apprentice under my tutelage. At the beginning he produced numerous prints, primarily in black, on stone as well as on zinc … For many long months he came and worked tirelessly, and to his dissatisfaction allowed him to have only a few of his first attempts printed.1
With Sorlier's guidance, Chagall reveled in lithography's potential to produce prints with a color range as large as paintings. He tested different color combinations by running uncolored lithographs, and then painting directly onto the images with pastels or watercolors. When the combination achieved his pictorial aims, he prepared the plates to print with multiple colors. While dominated by brown tonal values, Nature Morte Brune nonetheless reflects this creative process and incorporates several unexpected hues.
In this lithograph, conflicting space and scale confront the viewer. A café still life anchors the image, comprised of a plate, a compote dish with apples, lemons and grapes, and a wine bottle, glass and fork resting on a checked tablecloth. Objects then stack up towards the top of the composition: two vertical grids suggesting either curtains or screens frame the left and right edges, while a dog, a man and an orange and magenta rooster, all of comparable size, occupy an indeterminate space at the center. It remains unclear whether the dog inhabits the area in front of or behind the grid form on the left, and how the man and the rooster relate to one another. Chagall leaves a circular form as the only (nearly) unprinted area in the image, using the negative space to evoke the shape of the moon or a floating table. Circular motifs repeat throughout, right down to the curls on the man's head that echo the small bunch of grapes.
The style of this lithograph bears similarities to Chagall's contemporary gouaches, some of which were studies for other lithographic series (see preparatory gouaches for Tériade's Le Cirque). In all of these works, the artist uses a variety of brushstrokes: thick, modulating contours, pencil-thin lines, and swaths of thin washes. The formal possibilities of Nature Morte Brune must not have been exhausted in the brown version, since Chagall also printed the same scene in blue with red and black accents (Sorlier cat. no. 206).
ELLEN ADAMS
Assistant Professor, Frederik Meijer Honors College, Grand Valley State University
References
Charles Sorlier, Chagall, le Patron (Paris: 1989), 143 quoted in Christofer Conrad, "Picor in Fabula: Chagall's Lithographic Work," in Ulrike Gauss, Mark Chagall The Lithographs: La Collection Sorlier, (Ostfildern-Ruit: Verlag Gerd Hatje, 1998) 45.
Bibliography
Gauss, Ulrike. Marc Chagall, The Lithographs: La Collection Sorlier. Ostfildern-Ruit: Verlag Gerd Hatje, 1998, cat. no. 205.