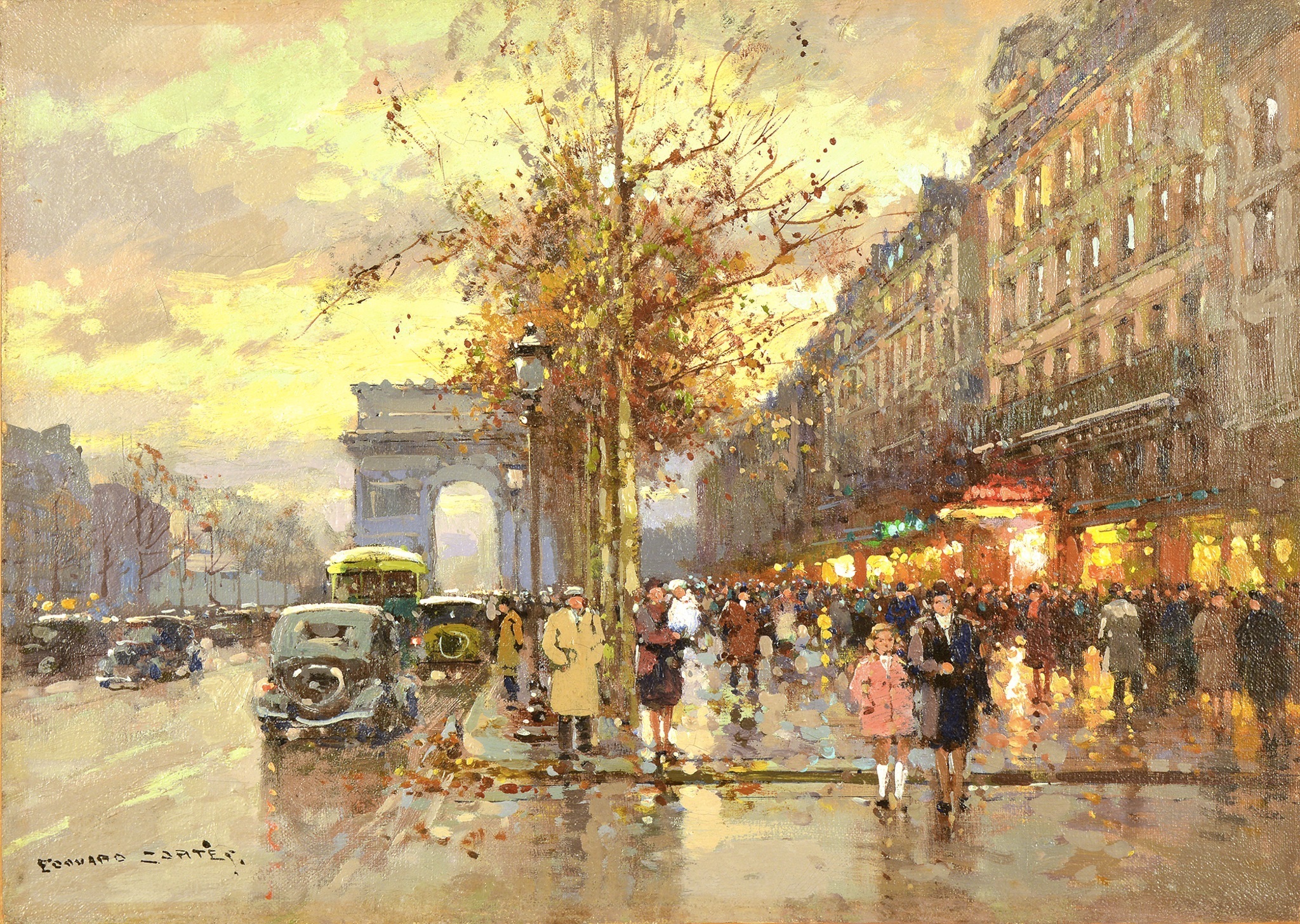 About The Artwork
The wet, reflective sidewalk of the Avenue des Champs-Elysées hosts a multitude of Parisians in Édouard Cortès' painting of one of the world's most famous thoroughfares. Cortès captures the moment just after the rain but before nightfall, when the sky turns purple and businesses illuminate their storefronts.
Cortès hailed from a long line of artists: his father, Antonio, gained renown as a painter during the nineteenth century in Spain and his grandfather, André, also worked as an artisan. Early on, Édouard Cortès trained with Antonio before starting his career as a well-received academic painter. After becoming a member of the prestigious Société des Artistes Français, the artist exhibited regularly in the Salon des Artistes Français, the Salon de la Société des Beaux-Arts, the Salon des Artistes Indépendants, the Salon d'automne and the Salon d'Hiver. He received a number of honors, notably being elevated to the rank of Chevalier of the Ordre des Arts et des Lettres (1959) and having a street in his town of Lagny-sur-Marne renamed in his honor.
Cortès gained renown for his recognizable, familiar cityscapes. In the tradition of seventeenth century Dutch landscape painting, which gained extraordinary popularity through precise localization (showing a town specifically from the west, for example), Cortès presents similarly well-known locales in and around the French capital: cafés, squares, train stations, and the grand Parisian boulevards. L'Arc Du Triomphe depicts the beloved monument in a scene anchored by a line of trees that guides the eye back to the arch at the western end of the Champs-Elysées. Early evening light — here, a lavender-gray glow — reflects onto the monument. Cortès absorbed the lessons of Impressionism, seen most clearly in his treatment of the figures strolling along the sidewalk. With a few exceptions, they are comprised of loose dabs of paint that has been mixed heavily with white. Thus the red, yellow, blue and green hues appear quite bright and are mirrored on the sidewalk, creating a sense of movement and dynamism.
ELLEN ADAMS
Assistant Professor, Frederik Meijer Honors College, Grand Valley State University