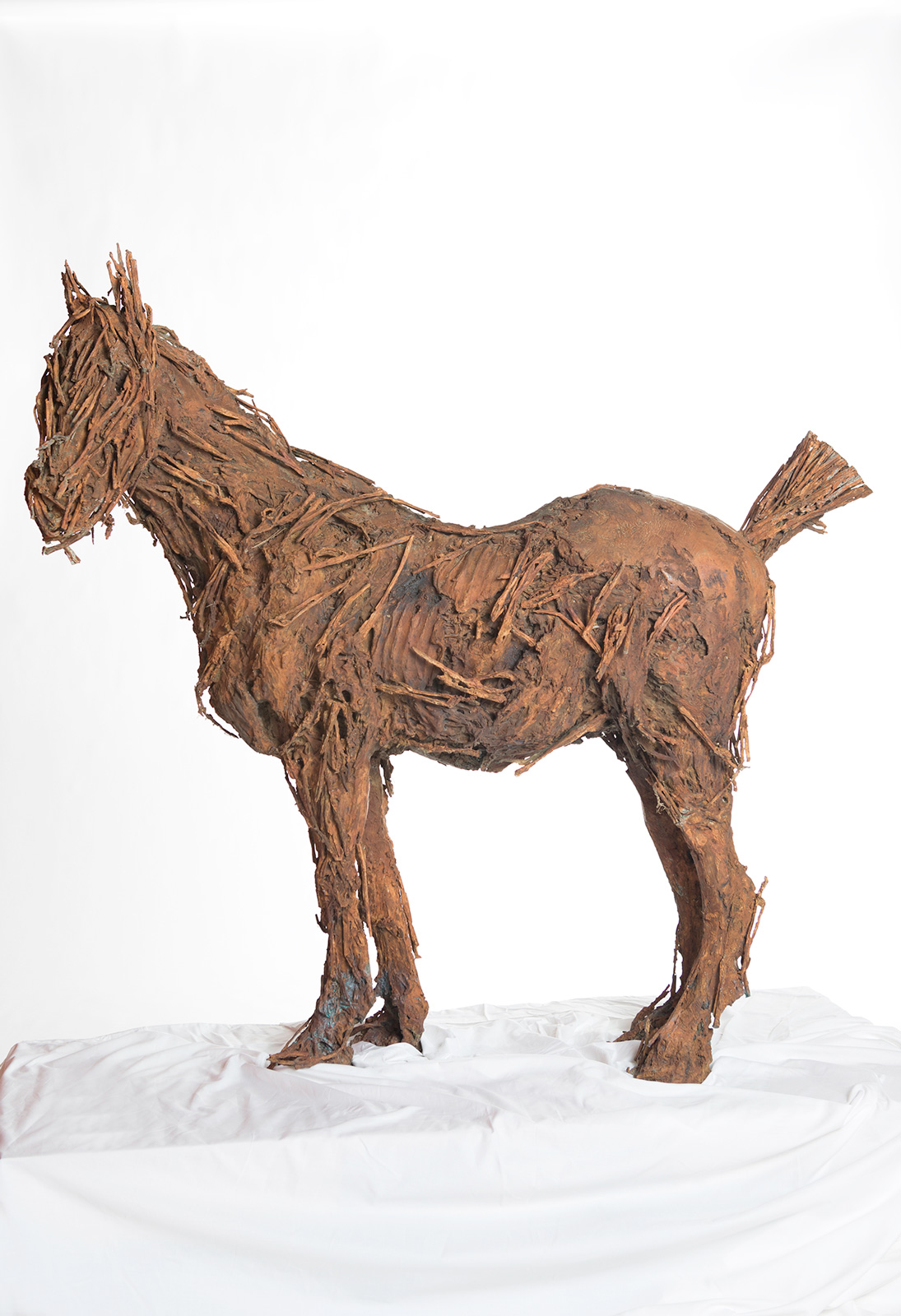 About The Artwork
Contemporary English artist Nicola Hicks is best known for her striking sculptures and very large-scale drawings in charcoal and pastel. Despite having come of age during a period dominated by conceptual and abstract art, she established herself early on as a figurative artist, focusing primarily on animals and animal-human hybrid creatures.
Works such as Small Horse demonstrate her signature approach. Hicks typically executes her sculptures first in plaster and straw, some of which are later cast in bronze. In Small Horse, her working method is very transparent. First, the artist constructs a mesh cage in the shape of the horse, over which she assembles organic materials: straw, twigs, sticks, plaster, acorns, mud, and other ephemera. The beast is simultaneously skeletal and strangely fleshed out. In some places the straw and twigs make up the structure, and in others the structure plays a more substantive role and the organic elements remain on the surface, mimicking the hair of the mane or tail.
Given the materials used to construct this sculpture, it would be easy to regard it as artificial. Instead, Hicks wrests the essential characteristics from the horse, capturing both its proper anatomy and suggesting its equine personality. For example, two slabs of plaster, placed on either side of the beast and run through with the artist's finger marks signify the ribcage; smartly arranged twigs comprise the beast's alert ears and cropped tail. Despite its small stature, the sculpture is well proportioned in cast bronze with a terracotta patina, whose matte finish gives the horse an organic appearance.
The convincing combination of physicality and psychology witnessed in Small Horse is rooted in the artist's study of anatomy and observation from life, both enacted through a rigorous attention to drawing. Hicks does not, however, simply mimic what she sees, as she elaborates:
I'm not really that interested in describing things. What I'm trying to do is write a poem. I want more. I don't want to describe a bear to you. I'd rather have a bear in the room.1
Her current work includes a series inspired by Aesop's Fables. Hicks' sterling pedigree includes study in London at the Chelsea School of Art (now the Chelsea College of Art and Design) and a master's degree from the Royal College of Art. Her work has been shown in exhibitions at museums and galleries worldwide, including, the Flowers Gallery, the Serpentine Gallery in London and recently at the Yale Center for British Art in New Haven, where she organized an exhibition featuring the museum's collection of British paintings of animals shown alongside and in dialogue with her own work. In 1994, she was honored with an MBE (Member of the Order of the British Empire) for her contributions to the visual arts.
ELLEN ADAMS
Assistant Professor, Frederik Meijer Honors College, Grand Valley State University
References
Quoted in the film "Nicola Hicks in New York,", accessed June 20, 2014.