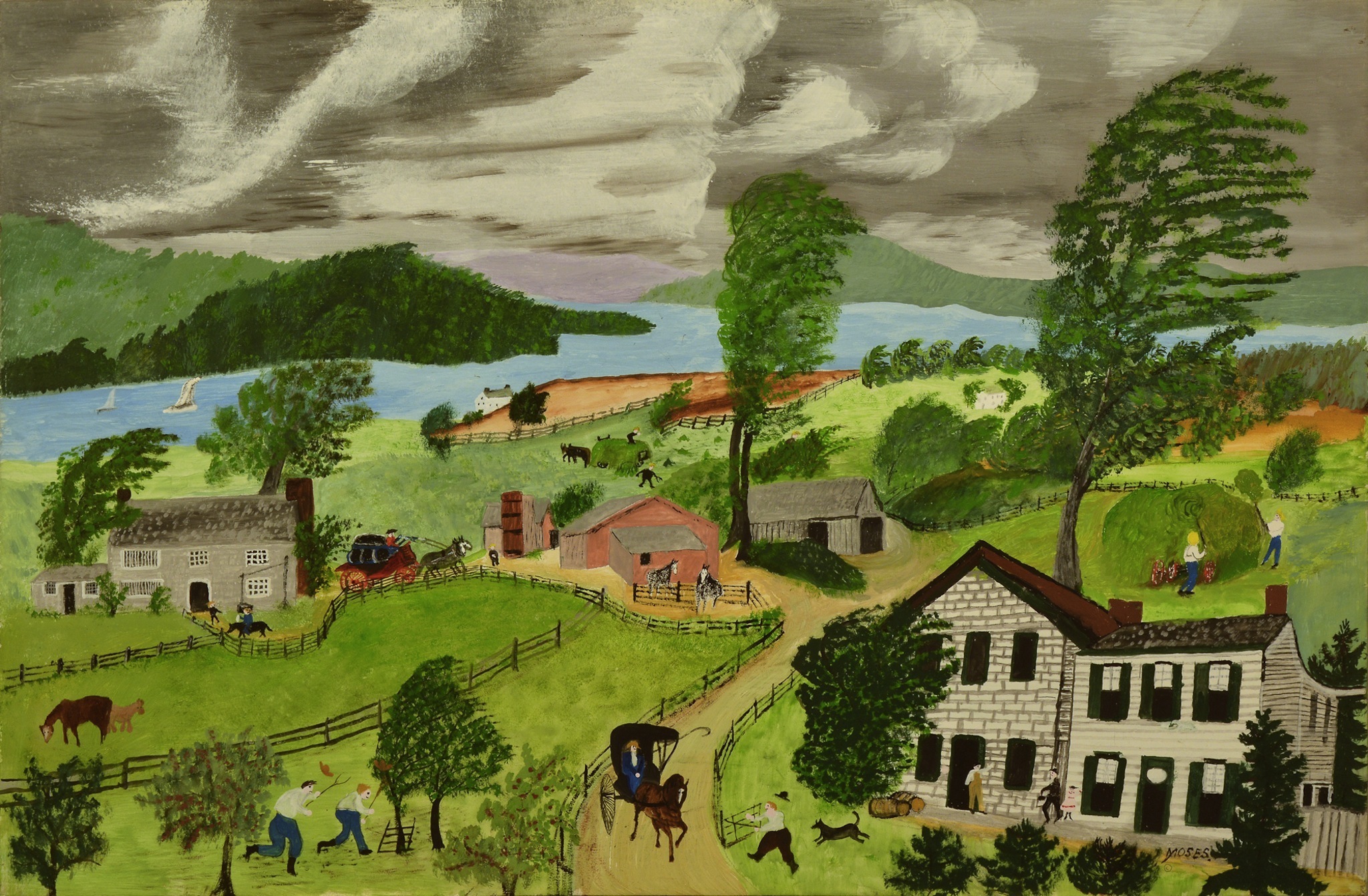 About The Artwork
Few artists embody American nostalgia as well as Anna Mary Robertson, best known as Grandma Moses. Her story is the stuff of legend: discovered at the age of 78 in Hoosick Falls, New York, this widow, mother and former domestic servant gained international fame as a folk painter, was lauded by governors and presidents, and continued to work well into her nineties. At the moment when Abstract Expressionism began to flex its cultural muscle among the art world cognoscenti, Moses' images of Americana, such as The Storm, charmed a more conventional audience.
During her lifetime, in fact, Moses successfully negotiated art market exposure and widespread cultural appeal. She first came to the attention of New York art dealers Sidney Janis and Otto Kallir just before World War II. When he organized the exhibition Contemporary Unknown American Painters at the Museum of Modern Art in 1939, Janis included three Moses works; Kallir staged the artist's first solo show at his Galerie St. Etienne one year later. Moses gained notoriety through the new medium of television journalism, including an interview with Edward R. Murrow, and her unpretentious paintings combined with her homespun persona together formed one of the first artistic "brands." In Cold War America, Grandma Moses represented patriotism and, according to critic Patrice Koelsch, "the idea that talent and tenacity will be recognized and rewarded."1 Her landscapes and interior scenes captured an idealized view of the country that attracted mass appeal. Indeed, many of her paintings were disseminated through decidedly popular means, with reproductions licensed for greeting cards, fabric, and even wallpaper. The artist drew inspiration from similarly commonplace images and used lithographs by Currier & Ives, magazine and newspaper clippings and postcards as source material for paintings.
The Storm returns to one of the artist's favorite genres: a broadly sweeping landscape seen from a high vantage point, this one showing rural homesteads as storm clouds gather. Despite its contemporaneity with the proliferation of automobiles and television, this image features horse-drawn carriages and hand-wrought fences painted in a decidedly naïve style. Some of the figures appear to heed the coming squall and rush to secure their farms before its arrival, the commotion underscored by their hats flying off of their heads. Other laborers go on about their work, seemingly oblivious to the change in weather. Despite the gray clouds, Moses uses pure white underpainting (visible in some areas), giving the painting a sharp brightness that belies the subject's bleak coloristic potential. In many areas Moses applies translucent washes of oil paint, causing the medium to resemble watercolor. She also uses methods common to watercolor, such as dry brushing the wispy, wind-blown trees at the top of the composition and using a wetter brush for the substantive structures at the bottom. Moses suggests recession into space by shrinking figures and objects in the background and employing a paler green paint in the farthest hill, even as she denies illusionistic renderings of objects such as houses that lack a fixed perspective. With its folkish style and straightforward imagery, The Storm presents a bucolic view of rural American untouched by historical events or technological advances.
ELLEN ADAMS
Assistant Professor, Frederik Meijer Honors College, Grand Valley State University
References
Patrice Clark Koelsch, "As American as Apple Pie," review of Grandma Moses in the 21st Century by Jane Kallir, The Women's Review of Books 19, 5 (February 2002), 21.