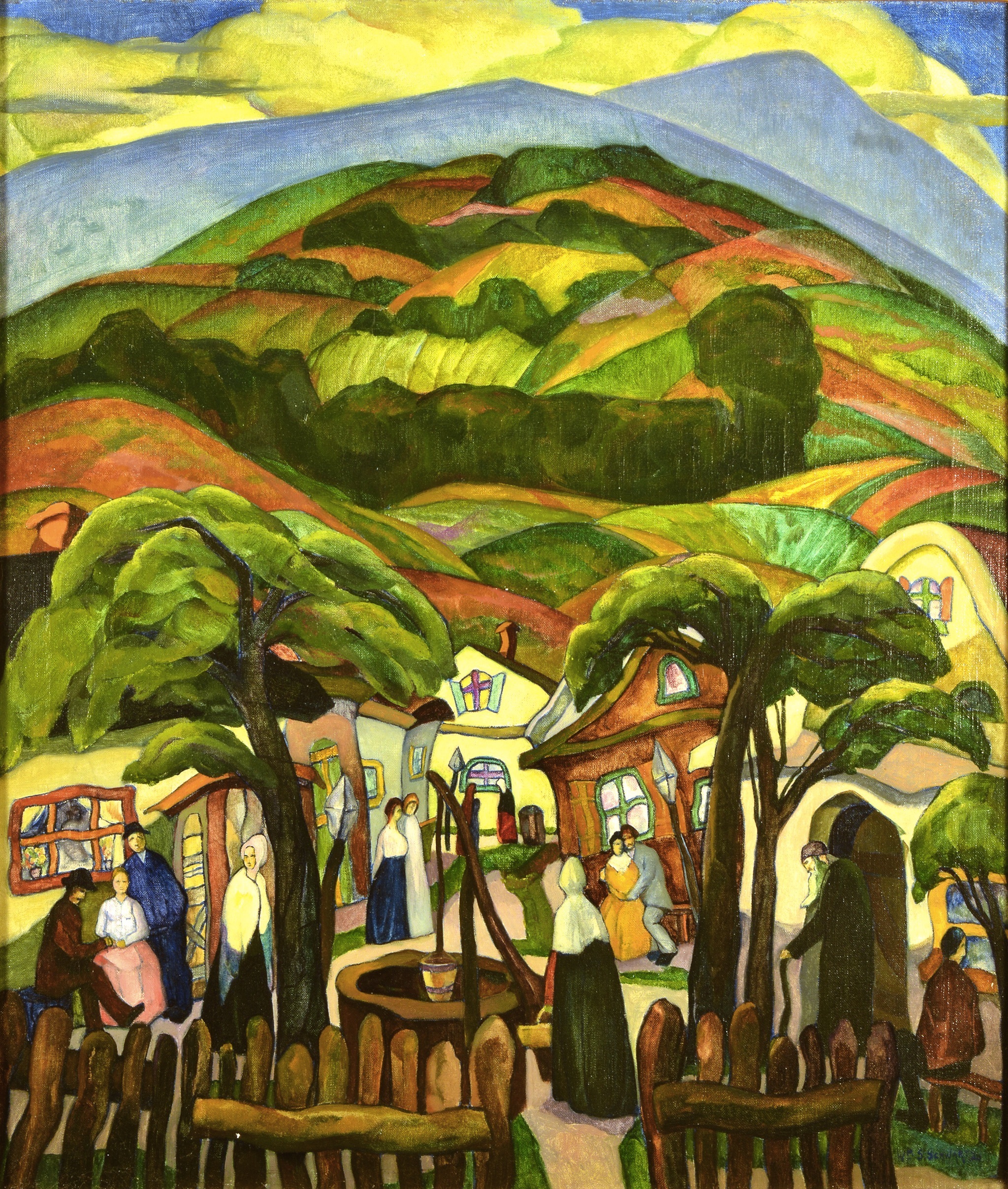 About The Artwork
Like Marc Chagall before him, painter and printmaker William Schwartz combined personal allegories and history with a decidedly modern approach. The Romance of a Russian Village, painted years after Schwartz emigrated from his native Russia to Chicago, recalls the setting and characters of his youth. Painted in jewel-like colors, this bright and lively work is both decorative and evocative.
Twelve figures inhabit this small village set in a rolling, green landscape. The townspeople go about their everyday life: drawing water from the well in the square, chatting with neighbors, and visiting shops. An older Rabbi with a long, white beard makes his way gingerly towards the center of town, bracing himself with a cane. Schwartz suggests harmony and light through the pervasive use of green and yellow, using, for example, the same shade of green in the clothing of a few villagers as well as the surrounding landscape. The artist outlines the figures and houses, filling in the surfaces with broad areas of flat colors, an approach that contributes a cloisonné look to this painting, much like the work of Paul Gauguin.
William Schwartz came to the United States in 1913 and settled in the Midwest. After working as a house painter, he studied at the School of the Art Institute of Chicago from which he graduated with honors. The Romance of a Russian Village was completed just one year before the artist's first one-person exhibition at the Art Institute, which launched his successful career. In the 1930s, Schwartz worked for the Federal Art Project of the Works Progress Administration and produced murals for post offices around Illinois.
ELLEN ADAMS
Assistant Professor, Frederik Meijer Honors College, Grand Valley State University