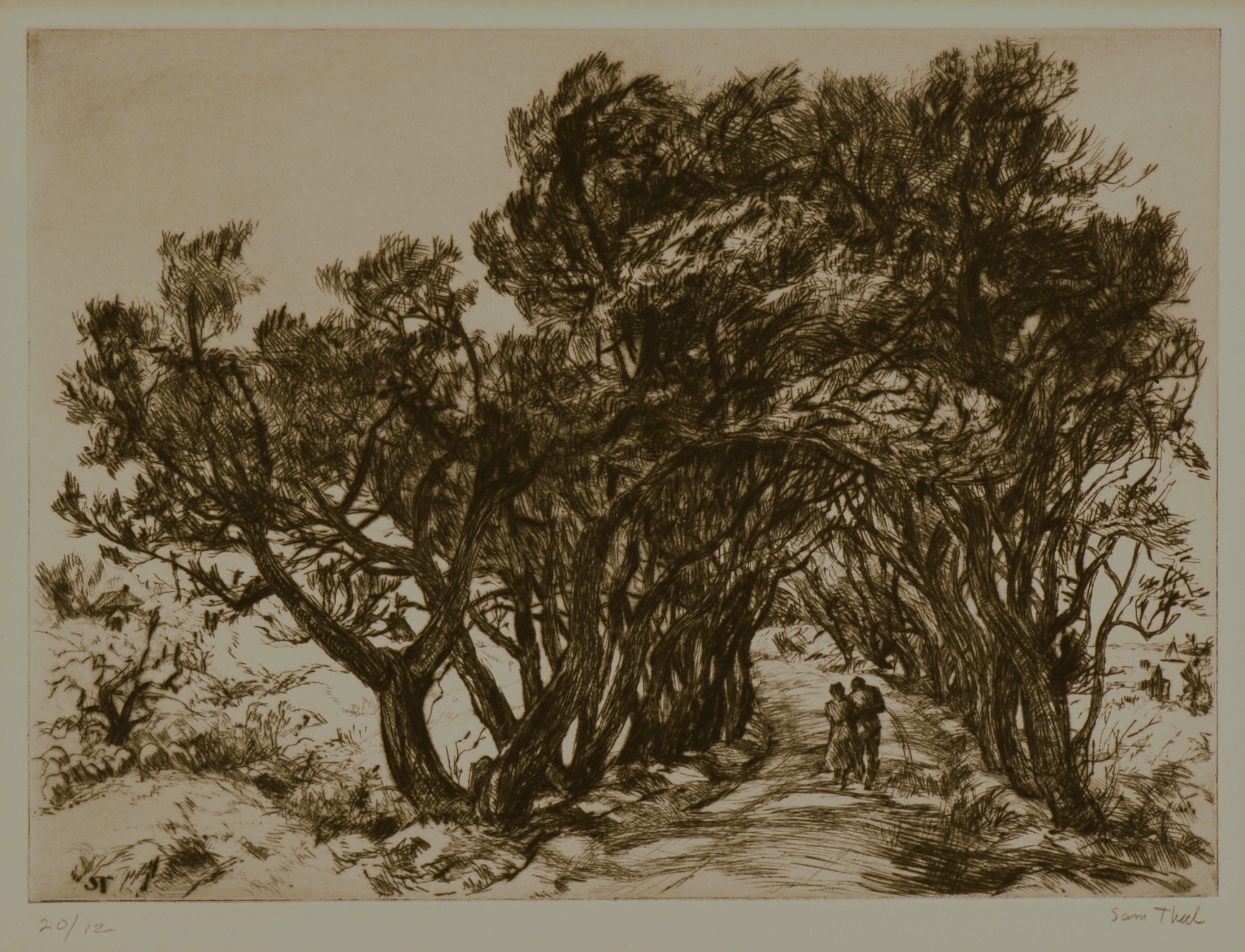 About The Artwork
Sam Thal, an American Regionalist painter, printmaker, and sculptor, grew up in New York City and attended the Art Students League, one of the most influential training grounds for generations of artists. He moved to Boston in the early 1920s, where he continued his education at the School of the Museum of Fine Arts. He called the Massachusetts city home for the rest of his life. During the Great Depression, Thal earned a living as a Works Progress Administration artist and developed teaching plans for the Federal Art Project, which conducted art outreach programs for children and adults in almost every U.S. state. His prints are now in the collections of numerous museums, including the Museum of Fine Arts, the Metropolitan Museum of Art, the National Gallery (Washington), and the Library of Congress.
Most WPA artists created figurative rather than abstract work. Accordingly, Thal's etching Couple on a Path adheres to this aesthetic preference. The etching depicts a couple strolling along a country path through a canopy of trees. Curving branches seem to embrace the pair, and undulating lines throughout the composition activate this small-scale scene. Thal includes minute details, such as a harbor on the right and a tiny cottage on the left.
Like other Regionalist artists working during the 1930s and 40s such as Thomas Hart Benton, Associated American Artists printed at least five original etchings by Thal. While it is not known whether AAA commissioned this work, Couple on a Path resembles the confirmed AAA prints in subject matter, size, format and medium.
ELLEN ADAMS
Assistant Professor, Frederik Meijer Honors College, Grand Valley State University