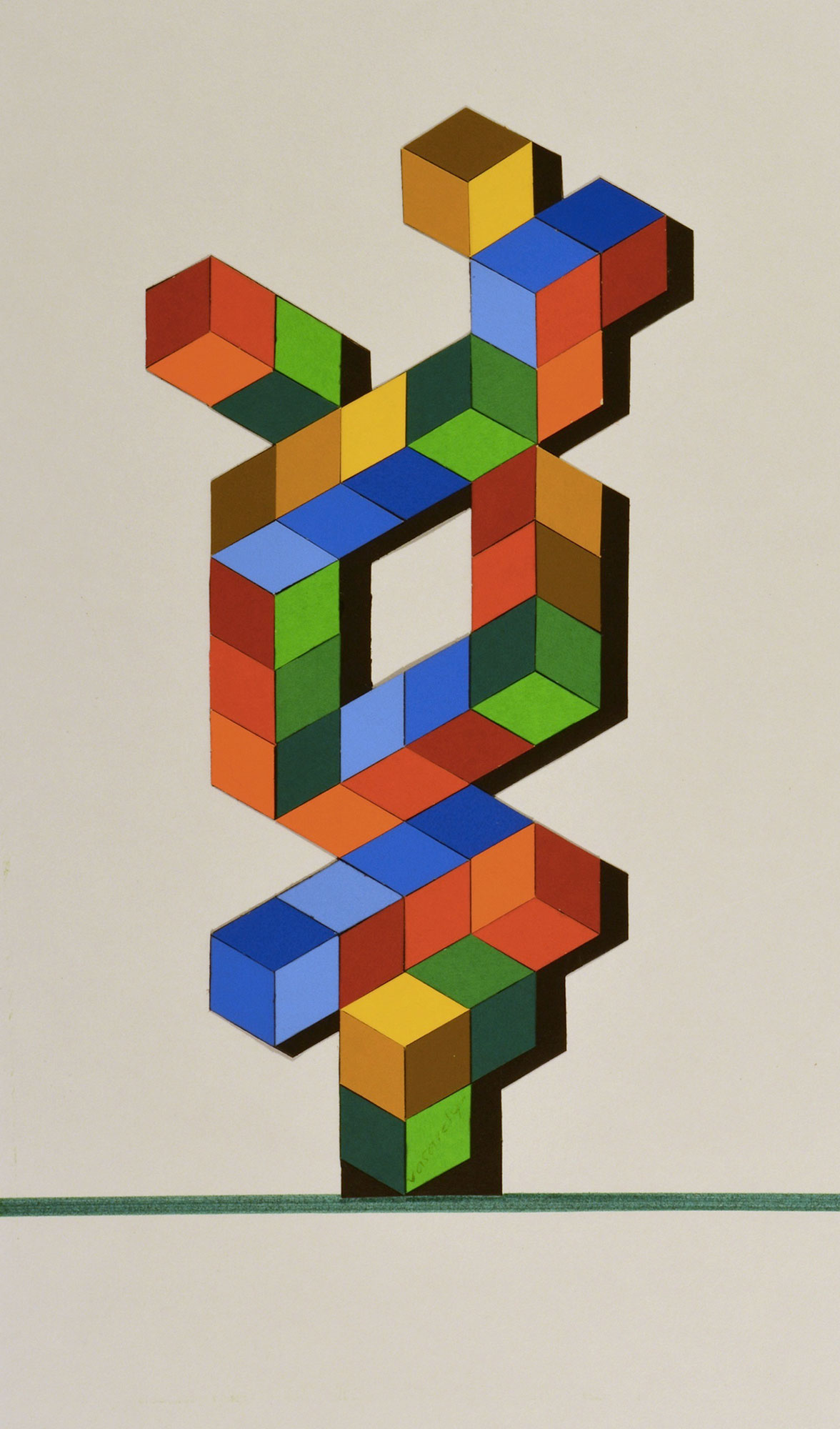 About The Artwork
Known chiefly as a driving force behind the short lived Op (optical) Art movement, Victor Vasarely advanced the position of geometric abstraction during the second half of the twentieth century. His visual language, which originated in his training with the Hungarian Bauhaus, produced ambiguous perceptual effects with seemingly simple forms. Equill No. 33, a variation on the artist's Homage to the Hexagon experiments, engages the eye in a constant back and forth of spatial perception.
Vasarely was present at rebirth of abstract art in a geometric vein, collaborating with the Parisian gallerist Denise René in the 1950s. René promoted pure geometric abstraction and engaged in the post-war debates that pitted non-objective art against realism. Vasarely's rigorous paintings eschewed any attempts at narrative or recognizable form and instead produced variations on established systems. His work was featured in The Responsive Eye, an exhibition organized by the Museum of Modern Art in 1965 that legitimized Op Art, or art that produced illusions or optical effects. While Vasarely's version of Op Art took different forms, often he began with a geometric shape, added an identical shape in a related or complimentary color, and continued on, producing infinite combinations.
Equill No. 33, a collage constructed of cut paper, demonstrates this approach. Here, the artist uses colored rhombuses arranged in linear permutations that seem to rise and expand upward, backward and forward. Some of the three-dimensional looking "blocks" are made of related colors (using three different shades of green, for example) to suggest modeling and thus volume. This occurs primarily on the corners or ends of rows. A thin black border added to the right-side contour hints at a cast shadow and additional depth. The artist arranges simple shapes to fool the viewer's eye into believing that the array of blocks alternately projects out or recedes away from the picture plane. Instead of floating in space, however, this object is grounded by the hand-drawn line at the bottom of the page, which suggests architectural or figural associations but never offers resolution.
The present collage is likely a preliminary study for a larger work. Vasarely used collage early in the creative process in order to experiment with possible variations. As he explained:
For me, the collage is a kind of test … From drawing or blotting paper I cut out large shapes with a razor and apply them to sheets of paper without premeditation. One collage is the work of three to four minutes of intense concentration, and necessarily of the utmost simplicity … the collage … is a working tool. 1
Vasarely produced many painted versions of works that employ similar perceptual ambiguity, such as Meh (2) (Centre Georges Pompidou, Paris).
ELLEN ADAMS
Assistant Professor, Frederik Meijer Honors College, Grand Valley State University
References
Victor Vasarely, Vasarely, transl. I. Mark Paris (Oxford: Phaidon Press Limited, 1981), 11.