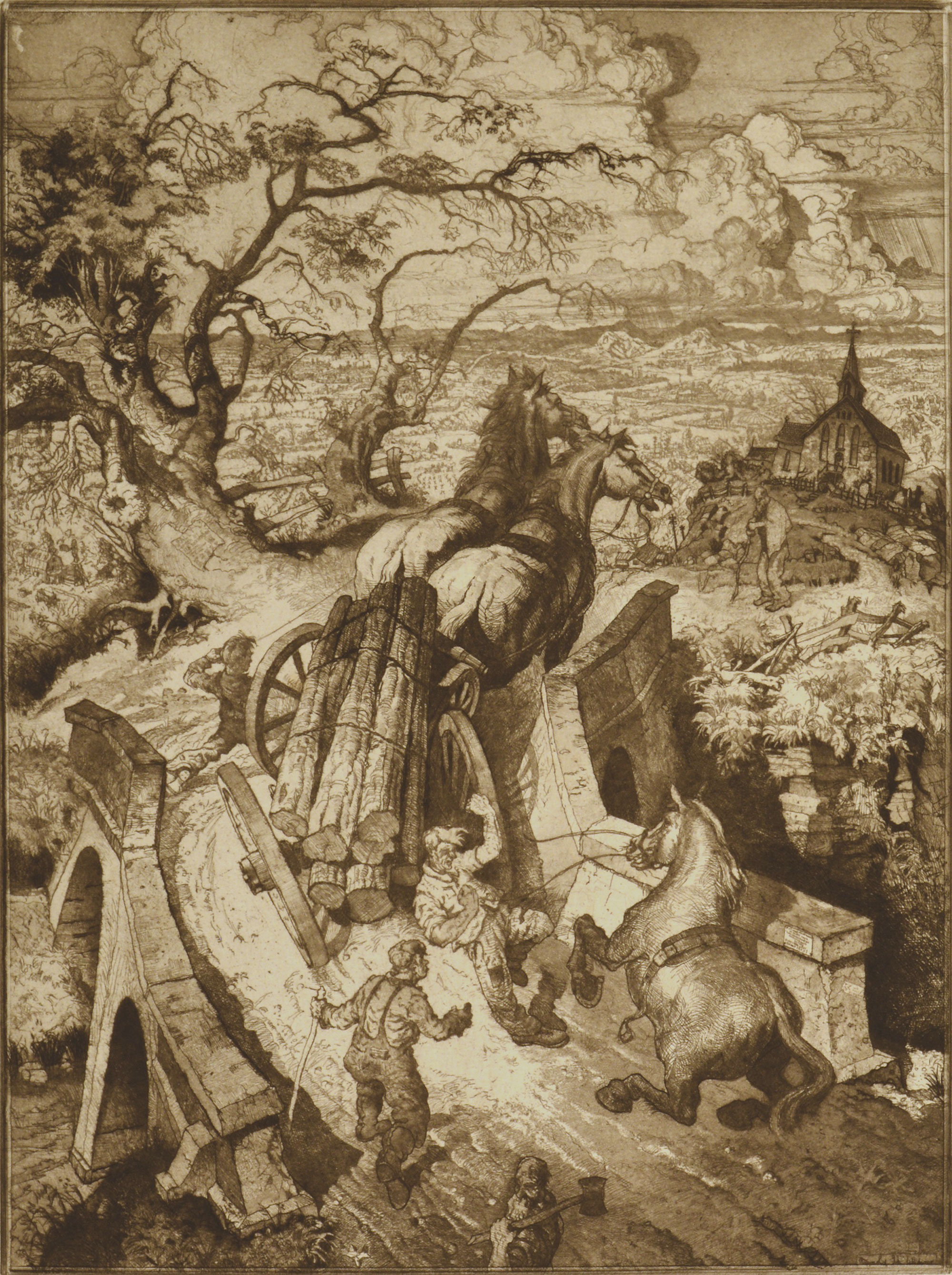 About The Artwork
Reynold H. Weidenaar's Home From the Forest rewards very close observation. The intaglio print, which combines several different printing methods (etching, engraving, mezzotint), depicts a lively woodland scene with great dynamism and depth.
In Home From the Forest, loggers move their cumbersome load back into space along a lopsided bridge. Large and small elements in the scene offer a rich sense of realism. For example, while two of the horses comply with their masters by dutifully pulling the wagon, a third struggles mightily against the reins. The thrust of the composition is a broad curve, starting in the lower right, moving hard to the left, and then retreating once again into the middle ground on the right. All of the lines in the image, both real and implied, direct our eyes to a small church that serves as a focal point. Two bowed and gnarled trees reach in its direction, their branches extending like arthritic appendages whose shapes are echoed in the clouds. Despite the compact scale of the print, Weidenaar suggests a massively expanding space through painterly methods, in particular atmospheric perspective. At the same time, he also provides intimate details best examined with a magnifying glass, such as the flyers pinned to the tree and bridge.
Master printmaker, author and Michigan native Weidenaar attended the Kansas City Art Institute just before World War II. Once established, he served on exhibition juries and showed his own work at venues around the United States, including the National Academy of Design, the Detroit Institute of Arts and the Corcoran Gallery, Washington DC. He received several awards, notably the John Simon Guggenheim Memorial Foundation Fellowship for his work in etching, lithography and drawing. Not only did Weidenaar work in a number of printmaking methods, he also revived and reinvigorated older techniques including mezzotint engraving.1
ELLEN ADAMS
Assistant Professor, Frederik Meijer Honors College, Grand Valley State University
References
See Raynold H. Weidenaar, "The Forgotten Art of Mezzotint Engraving," American Artist 12 (September 1948), 52 – 55.