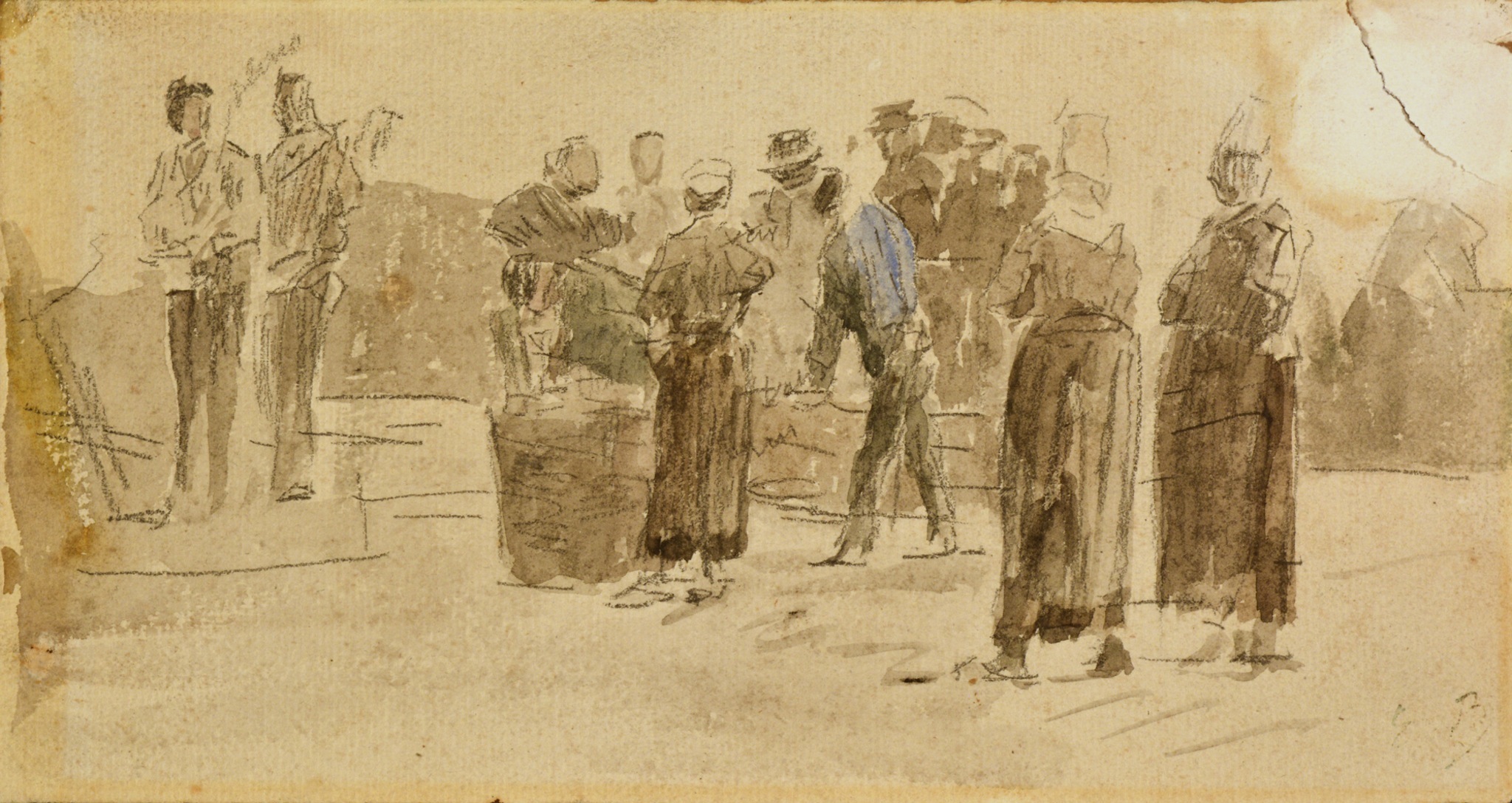 About The Artwork
While the Impressionists gained renown for works done entirely en plein air (in the open air), it was Eugène Boudin who encouraged a teenaged Claude Monet to leave the studio to paint in nature. Aided by new painting technologies — the invention of oil paint in tubes and collapsible, thus portable, easels — Boudin frequently worked out his composition, colors, and the play of light through a series of studies done outdoors, directly in front of the subject. He persuaded Monet to do the same, as the younger man recalled:
I remember our meeting as if it were yesterday … I agreed to go painting in the open air with him. I brought a paintbox, and we set off to Rouelles, without much enthusiasm on my part. I watched him rather apprehensively, and then more attentively, and then suddenly it was as if a veil had been torn from my eyes. I had understood, I had grasped what painting could be. Boudin's absorption in his work, and his independence, were enough to decide the entire future and development of my painting.1
Boudin's paintings tend to cast a wide lens and revel in the unity of groups of people in a vast landscape under an expansive sky. His sketches and studies, such as Bretonnes et Pêcheurs Sur le Quai, present more intimate scenes and focus on posture, attitude, and the interaction of smaller numbers of figures. Here, for example, Boudin blocks off the three groupings of workers. The two women who occupy the right foreground closest to the viewer are the most fully realized figures in the composition. Boudin applies both straight and curving pencil lines using a combination of thick and thin strokes that in some areas produce the illusion of light and dark. Varying tones also emerge through of areas of watercolor wash, from the lighter hats and neckerchiefs to the shadows among the skirts' folds. In the center, an indeterminate number of figures — at least six are visible — appear to focus on a task. A lone swath of blue paint articulates the shirt of one of these figures, while abbreviated graphite and watercolor lines suggest the curve of a chin here or the arch of a shoulder there. On the far left, two men stand apart, with a nearly illegible reminder from the artist to himself that records the color intended for the jacket: blanc (white).
ELLEN ADAMS
Assistant Professor, Frederik Meijer Honors College, Grand Valley State University
References
Claude Monet, quoted in G. Jean-Aubry, Eugène Boudin.