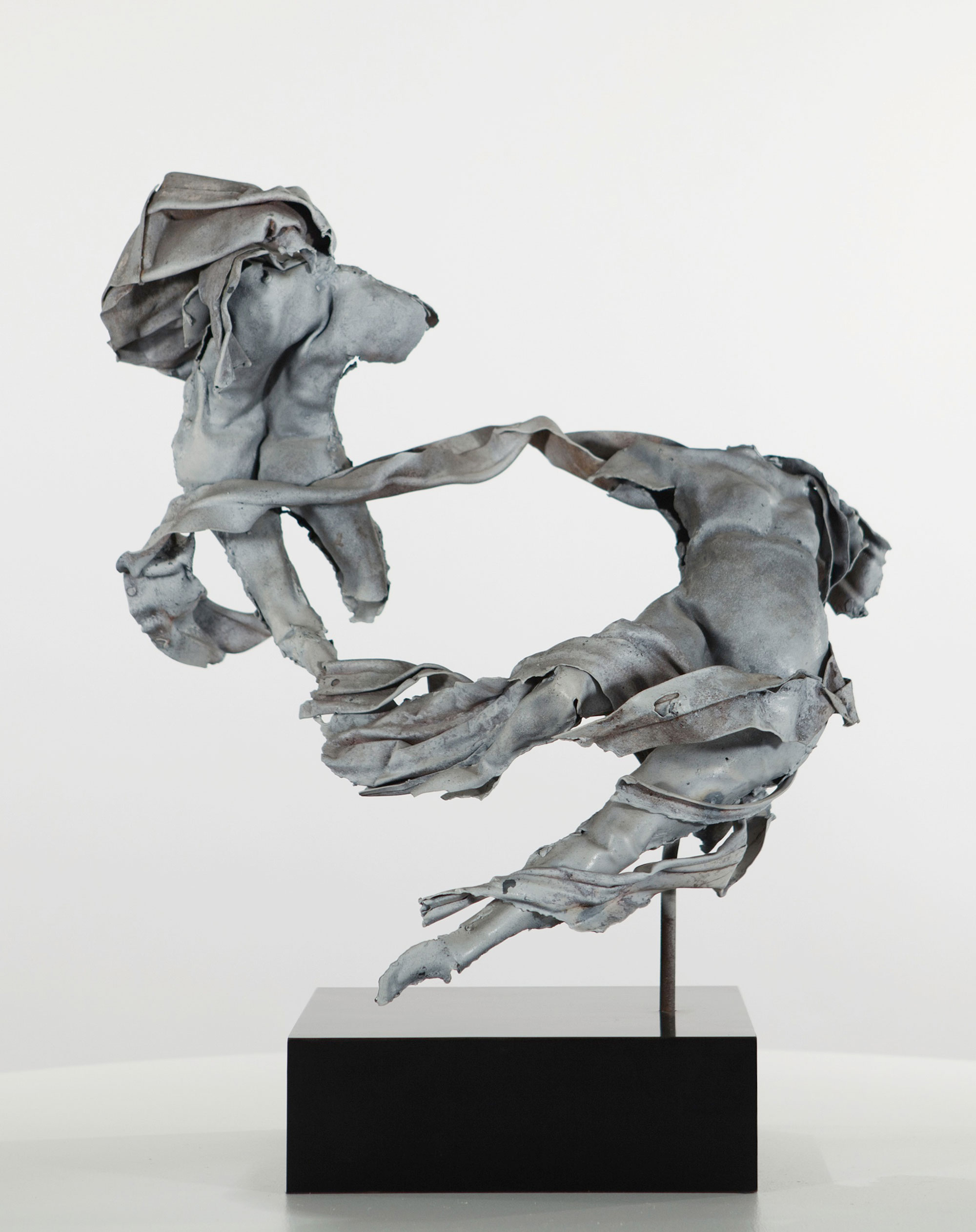 About The Artwork
It should come as no surprise that Stuart and Barbara Padnos were drawn to Judith Brown's Duo, which they purchased directly from the artist soon after its fabrication. Like Stuart himself, Brown employed scrap metal in much of her work, which ranges from small religious ceremonial objects such as a Hanukkah Lamp (1958, collection of The Jewish Museum, New York) to monumental sculptures and public art projects like the sculptural installation commissioned for the Federal Courthouse building in Trenton, New Jersey. Brown folded, twisted, welded, and painted discarded steel, in effect transforming junkyard castoffs into vigorous works of art.
Judith Brown's style evolved through exposure to varied and seemingly incompatible influences. A native New Yorker, the artist graduated from Sarah Lawrence College after studying sculpture with Theodore Roszak, the welder-sculptor who introduced generations of art students to industrial techniques (including direct metal welding) and unconventional materials. Visually and iconographically, Brown's sculpture is informed by the classical, Renaissance, and Baroque art that she saw during travels through Europe as well as the modernist choreography of Martha Graham. A combination of traditional subjects with avant-garde techniques characterizes much of her work.
Both are present in Duo. At first glance, the sculpture appears abstract, but upon further examination fragments of two figures are suspended in motion. Tornadic in form, the bodies swirl around an unseen central axis. Duo rewards the viewer who circumnavigates this small yet expansive freestanding sculpture through the interaction of positive and negative space that ebbs and flows dynamically. The trembling, visceral figures — one female, the other indeterminate — appear to flow out of and into swirling fabric, and recall costumes in certain Graham productions that echo the movements of the dancers. That the artist manipulates the materials to produce forms that appear fabric or ribbon like is a testament to her skill with the welding process. These are not fine pieces of steel. Punched holes are visible in certain pieces, and rivets and jagged edges remain. The seeming conversion of one material into another recalls Bernini's transformation of marble into diaphanous fabric and clouds in the Ecstasy of St. Teresa.
ELLEN ADAMS
Assistant Professor, Frederik Meijer Honors College, Grand Valley State University